Hello, I am slowly getting around today. It's raining again. Not suppose to but it is.. and that is making me just feel sore all over. Guess I'm starting to get old. I had to bring in my cardboard and lamp and put a letter in the box after I took the dogs out for their morning potty. I hope to take a walk this afternoon. If it's still raining, I'll have to forgo the walk, I think.
*****
1
"Great Dishes for Buffet Entertaining" [a recipe serial]
from the December 1971 GOOD HOUSKKEEPING Magazine

VINTAGE RECIPE: "Mozzarella-Stuffed Mushrooms"

1 pound medium mushrooms (about 24 mushrooms)
1/4 cup butter OR margarine, melted
1/3 cup finely chopped mozzarella cheese [or American cheese if you so desire]
1 tablespoon seasoned bread crumbs
About 1/4 cup sliced pimiento-stuffed olives

About 15 minutes before serving:
1. Preheat broiler as manufacturer directs. Cut stems from mushrooms (use stems another day). In small bowl, gently toss mushrooms, in melted butter or margarine. Place mushroom caps, cut end up, in broiler pan. Broil 3 minutes.
2. Meanwhile, in small bowl, combine mozzarella cheese and bread crumbs. Spoon some of the cheese mixture into each mushroom; top each with an olive slice. Return mushrooms to oven and broil 3 to 5 minutes longer until cheese is melted and mushrooms are tender. Serve with appetizer plates and forks. Makes about 24 appetizers.

*******
2
P-B-J Surprise Muffins

Makes 12 Muffins
Prep time: 15 minutes
Cook time: 25 minutes

1 cup white whole wheat flour
1/2 cup quick cooking oats
1/4 cup sugar
2 Tbsp. brown sugar
2 tsp. baking powder
1/2 tsp. salt
1/4 cup egg substitute
3/4 cup skim or 1 % milk
1/2 cup natural peanut butter
3/4 cup strawberry jam (or your favorite flavor jam/ jelly)

Preheat oven to 400 Degrees F. In large bowl, combine the dry
ingredients: flour, oats, sugar and brown sugar, baking powder and
salt. Add egg and milk and stir until just mixed. (It will look
lumpy.)
Spray muffin tins with cooking spray or line with papers. Fill muffin
cups 1/2 full. Drop about 1 teaspoon peanut butter and 1 Tablespoon
jam on batter in each cup. Cover filling with additional batter to
fill cup about 2/3 full.
Bake 20 - 25 minutes or until browned. Cool completely. Can be frozen.

Idea: Pack one of these muffins and a hard-cooked egg as a substitute
for a sandwich. Same nutritional value! Kids see it as "something
different".

Nutrition information per serving: 200 calories, 6g protein, 32g
carbohydrate, 6g fat.

******
3
VINTAGE RECIPE: "Sweet Potato Pie"
from the December 1977 GOOD HOUSEKEEPING Magazine

1 9" unbaked piecrust
2 (16- to 17-ounce) cans sweet potatoes, drained and mashed
1/2 cup packed brown sugar
1/2 cup milk
2 eggs
2 tablespoons melted butter OR margarine
2 tablespoons lemon juice
1/4 teaspoon salt
1/4 teaspoon ground cinnamon

About 1 hour and 10 minutes before serving:
Prepare piecrust; refrigerate. Preheat oven to 400 degrees F. In large bowl, mix well sweet potatoes with remaining ingredients; spoon into piecrust. Bake 45 minutes or until set. Serve hot; or cool and serve cold. Makes 8 servings.

*****
4
Chocolate Mint Christmas Brownies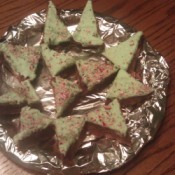 Bake your favorite fudge brownies. Remove from oven when done, and spread 1 cup semi-sweet chocolate chips on top. Return the pan to the oven, let them melt, a few minutes. Carefully spread the melted chips over the brownies. Let cool completely.
Make a cream cheese frosting, with 3 oz. cream cheese, 3 Tbsp. butter, and 2-3 cups sifted powdered sugar, blend to nice consistency. May add a few drops of milk or cream, if desired. Add green food coloring to desired tint, and add about 1/2 tsp. peppermint extract (it's strong).
Carefully spread over cooled brownies. Crush some candy canes (use a Ziploc bag and a rolling pin) and sprinkle on top. I made Christmas tree shapes, by cutting into lines on the short side, then cut diagonals.
Jackie
*****
5
Pretzel Chip Cookies
Ingredients:
8.5 oz. (a scant two cups) cake flour
8.5 oz. (1 2/3 cups) bread flour
1 1/4 tsp. baking soda
1 1/2 tsp. baking powder
1 1/2 tsp. kosher salt
1 1/4 cups unsalted butter
1 cup light brown sugar
1 1/2 cups white sugar
2 eggs
2 tsp. vanilla extract
1 lb. chocolate chips (I use mini chips)
hard pretzels, crushed
Directions:
Sift together flours with other dry ingredients except sugar. Cream together sugar and butter until light and fluffy. Mix in eggs one at a time and vanilla. Mix in dry ingredients and mix until just incorporated. Then fold in chocolate chips. Cover dough with plastic wrap and let sit in fridge for 24 hours. This is done so flour has time to absorb the liquid.
Make balls the size of a golf ball. Press dough ball into crushed pretzels on the top. You can make them smaller if you like but would have to adjust cooking time.
Servings:
Depend on how large you make cookies
Cooking Time:
Jackie